Afternoon Tea - Cake Subscription Boxes
Posted by Amelia on 18th Jun 2021
NEW Afternoon Tea subscription boxes!
The sun has finally made an appearance! For those of us living in the UK, this means; finally being able to whack the BBQ out, go for day trips to the beach, picnic in the park, and dress in the summer clothes we've been wanting to wear for a pretty long time.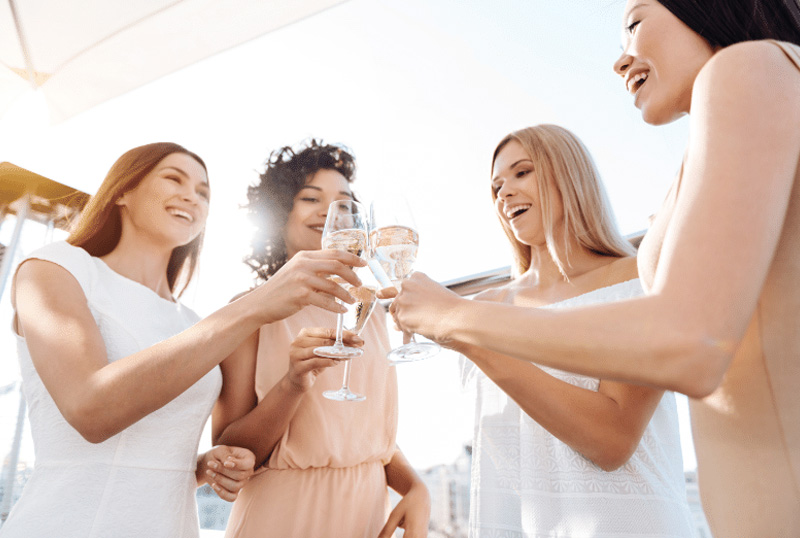 But those aren't the only things we have to look forward to this summer, because guess what? We've just launched an afternoon tea subscription service! Meaning? You can now enjoy a delicious vegan and gluten-free box of afternoon tea treats every month, for either 3, 6 or 12 months!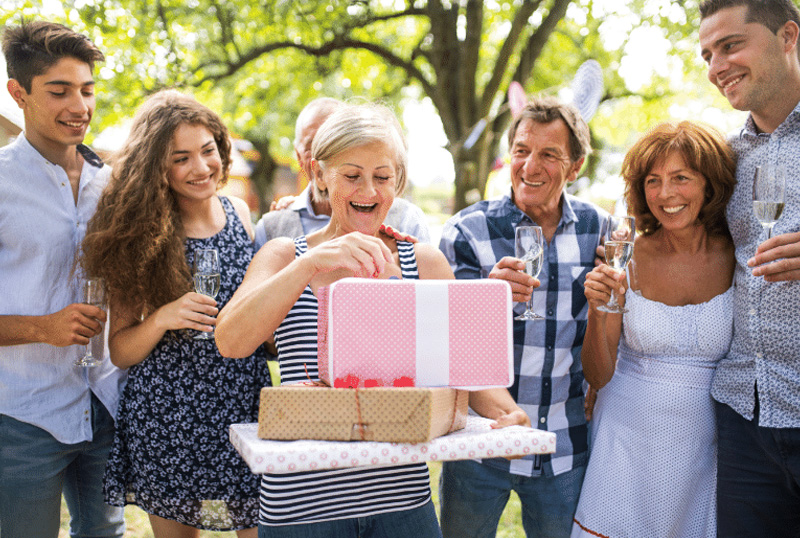 You can also choose to order as a one-off if you wish, a great option if you're planning to buy this as a birthday gift for a loved one; a treat for a party or get-together; or if you just want to try it out before taking the plunge.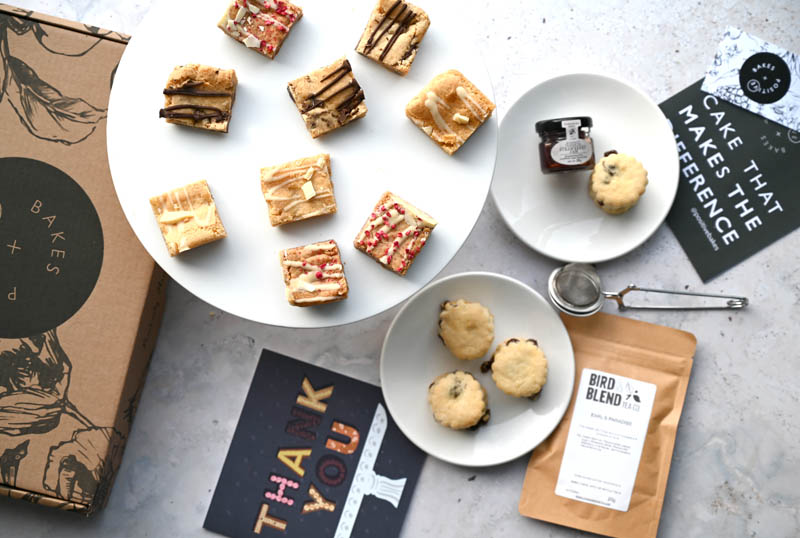 What do our subscription boxes contain?
Each subscription box contains; x1 sachet of fragrant loose-leaf tea (provides 10 cups) by Bird and Blend (metal strainer included), x4 delicious gluten-free Positive Bakes scones (a little smaller than our usual scones), x1 mini jam jar (25g) by Rosebud Preserves, and a selection of either cakes, brownies, blondies or flapjacks, made right here at Positive Bakes!
Delicious cake subscriptions made just for you!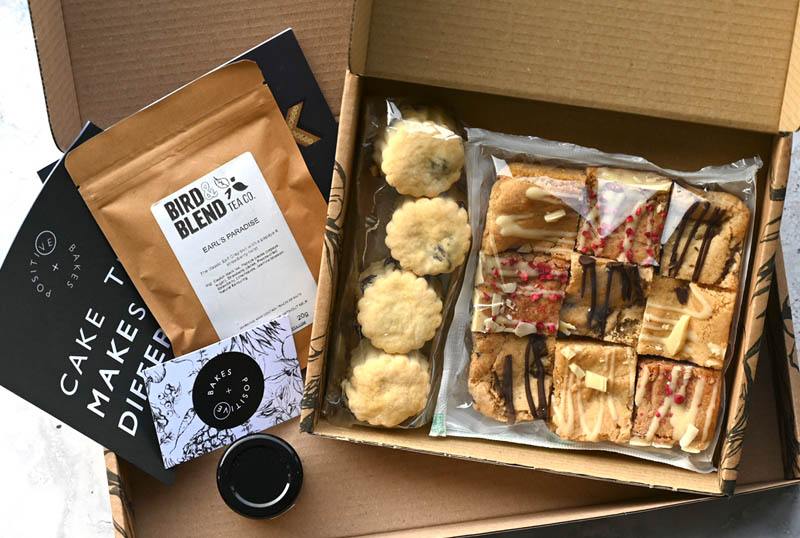 Delicious Recipes Make Delicious Bakes
The scrumptious bakes in your afternoon tea box are made using clean, ethical ingredients and have been created by combining flavours and fillings that are sure to make your taste buds sing! We don't do one or the other; it's either tasty and sustainable bakes, or none at all!
The beauty of our cake subscriptions
Because each box is different, you might get delicious vegan cakes one month, and gooey blondies or brownies the next; giving you the chance to work your way through our tasty range! And you don't have to follow a vegan or gluten-free diet to enjoy our treats. All you need is a sweet tooth: we'll take care of the rest!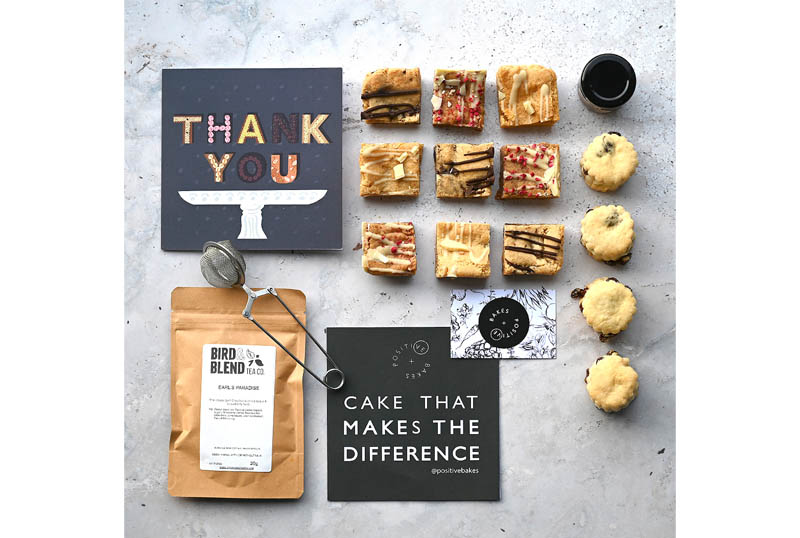 The cake subscription box for vegan foodies
Because these subscription boxes are so varied, they're the ultimate gift for vegan foodies who like to try new things. They'll get to try out a variety of sweet bakes, without the hassle of searching for vegan treats themselves!
And, if you do decide to buy a monthly subscription as a gift for a friend, you can add a customised message to every box. There's no extra cost for this and you don't have to include one, but we think adding a personalised message just makes the recipient feel that little bit more cared for!
If you're the vegan foodie in your life, why not gift a subscription package to yourself? The perfect gift to yourself if you'd like to enjoy a range of bakes whilst sticking to a vegan or gluten-free diet!
And, the great thing about this subscription services is that you're not limited. If you decide to go for a subscription of 3 months or more, you don't have to gift a box to the same recipient each month. You can gift the first box to your friend, the next box to a colleague, and the next to a family member. Its up to you how you want your monthly subscription to work!
Subscription Boxes Brought to You By...
Bird & Blend Tea Co.
We've collaborated with two independent brands to bring this afternoon tea subscription box to you; companies that care about what they do and about the world we live in. Bird and Blend is one of those brands.
They are an independent tea company run by expert mixologists Krisi and Mike, who are passionate about tea, and about being an eco-friendly brand. They sell only loose-leaf tea and plastic-free teabags, all contained within climate-friendly packaging. They're also all about spreading joy to their customers, one cup of tea at a time!
To find out more about Bird and Blend, please click here.
Rosebud Preserves
Your jams are brought to you by Rosebud Preserves, an independent preserves brand that uses fresh ingredients - either grown by themselves or sourced from English growers - to make their jams, jellies, marmalades, chutneys, pickles and sauces.
With a desire to keep alive the traditional English ways of sourcing and making their preserves, they continue to provide us with jams that are one of a kind. Click here to browse their website.
So, spoil yourself this summer, try out our appetising afternoon tea subscription boxes and let the positivity roll in!