How to create the ultimate vegan gluten free grazing board
Posted by Amelia on 5th Dec 2022
I think we can all agree that there's something special about gathering around a table of good food and sharing great conversation with loved ones. There are so many ways to enjoy a meal; fancy sit-down meals with fine wine and delicate entrees; free-for-all buffets with a selection of tasty finger foods; afternoon teas with luscious cakes and fragrant tea selections. But the one we want to focus on today is the simple, yet amazing vegan grazing board!
Also known as a Mezze board, this refers to either a wooden board or marble slab adorned with a selection of incredibly tasty, aesthetic looking finger foods that bring a variety of tastes, textures and colours to the table. You can choose to add things like sweet, crunchy carrot sticks, refreshing cucumber slices, vibrant pepper slices, creamy dips, colourful fruit, vegan cheeses, meat slice alternatives, brownies, cakes – the list goes on!
We think that our Savoury Christmas Treat Box - which includes sundried tomato pate, Speculoos biscuits, sea salt and rosemary crackers and more - is the perfect choice when creating a vegan and gluten free grazing board that will wow and astonish your guests. In this blog, we'll share with you our top tips on how to create a simple, mouth-watering vegan grazing board with our savoury treats and a few added extras for a truly spectacular mezze board experience!
The perfect excuse to get your creative juices flowing and take show off your inner Insta genius!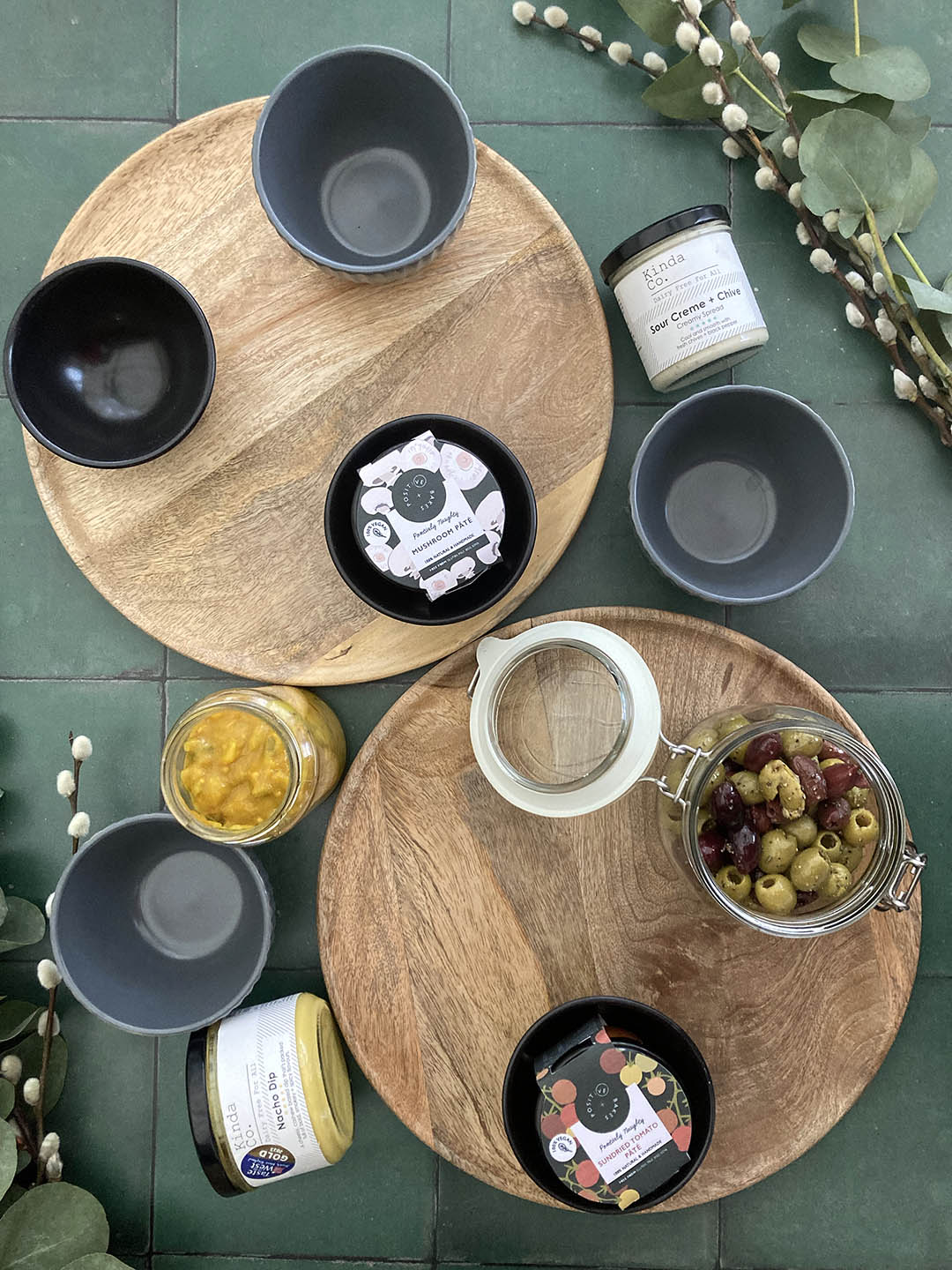 Tip 1. Choose a grazing board that's right for you
This part doesn't have to be too complicated and you shouldn't feel the need to go all out on a grazing board, especially since the food is intended to be the main attraction. Have a look around for wooden or marble slabs and keep in mind that a large plate is also fine, as long as you can fit all your goodies onto it. If you already have one of these at home, even better!
For an incredibly cost-effective approach, simply spread some parchment paper onto your serving table and add your vegan and gluten free treats. Simple, effective and an ideal option for larger gatherings!
Tip 2. Use our Savoury Christmas Treat box goodies as a base
Our vegan and gluten free savoury Christmas treat box includes all the food items you'll need as the basis of your vegan platter; fragrant sea salt & rosemary crackers, smoked paprika crackers, crunchy Speculoos biscuits, rich mince pie slices, tasty mushroom pate, sundried tomato pate and a luxury fruit & nut mix. The perfect combination of soft, crunchy, savoury and sweet! This box also includes 15 premium, biodegradable tea bags, great for a relaxed after-dinner natter.
Purchase our savoury treat box easily from our website and benefit from next day delivery when purchased before 2:30pm Monday-Thursday. For premium Saturday delivery, be sure to check out with your box before 12:30pm on Friday.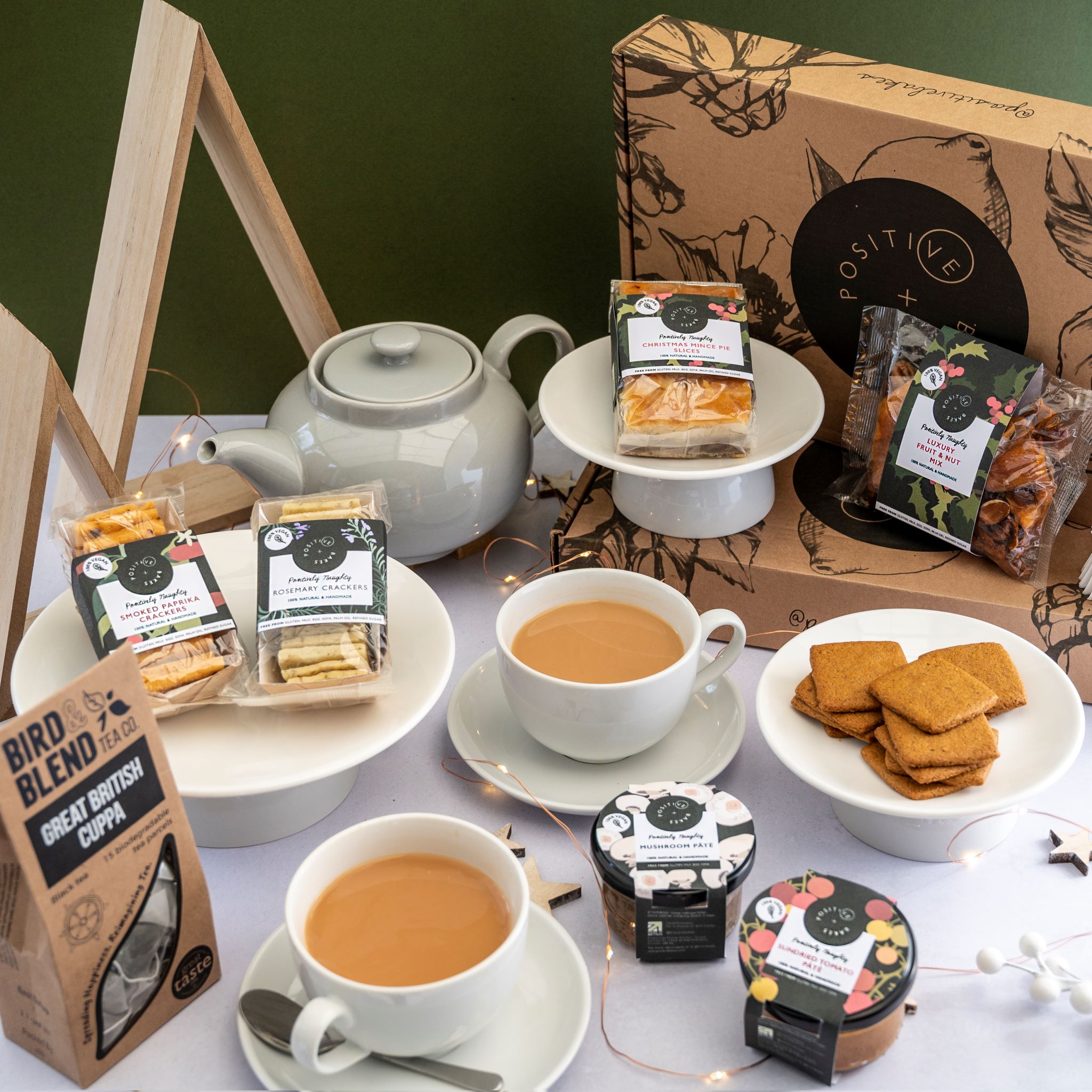 Tip 3. Add some delicious extras
For a delicious vegan mezze board experience, we've made a list of some fresh, flavourful, delicious snacks that you can serve alongside the treats in our savoury Christmas treat box:
White grapes
Red grapes
Dates
Apples
Pomegranates
Satsumas
Fresh figs
Vine tomatoes
Carrots
Sweet red pepper
Sweet green pepper
Mixed olives
Kinda Co. Nacho Dip
Kinda Co. Sour Creme and Chive
Piccalilli
Tip 4. Establish quantities needed to cater to your guests
Now you know which treats to add to your vegan platter, take some time to establish how much you need and how much you want to spend on these items. It's all too easy to become overwhelmed at the supermarket with all the options and sometimes we can leave with more than we bargained for! To avoid buying too little or too much create a list and stick to it.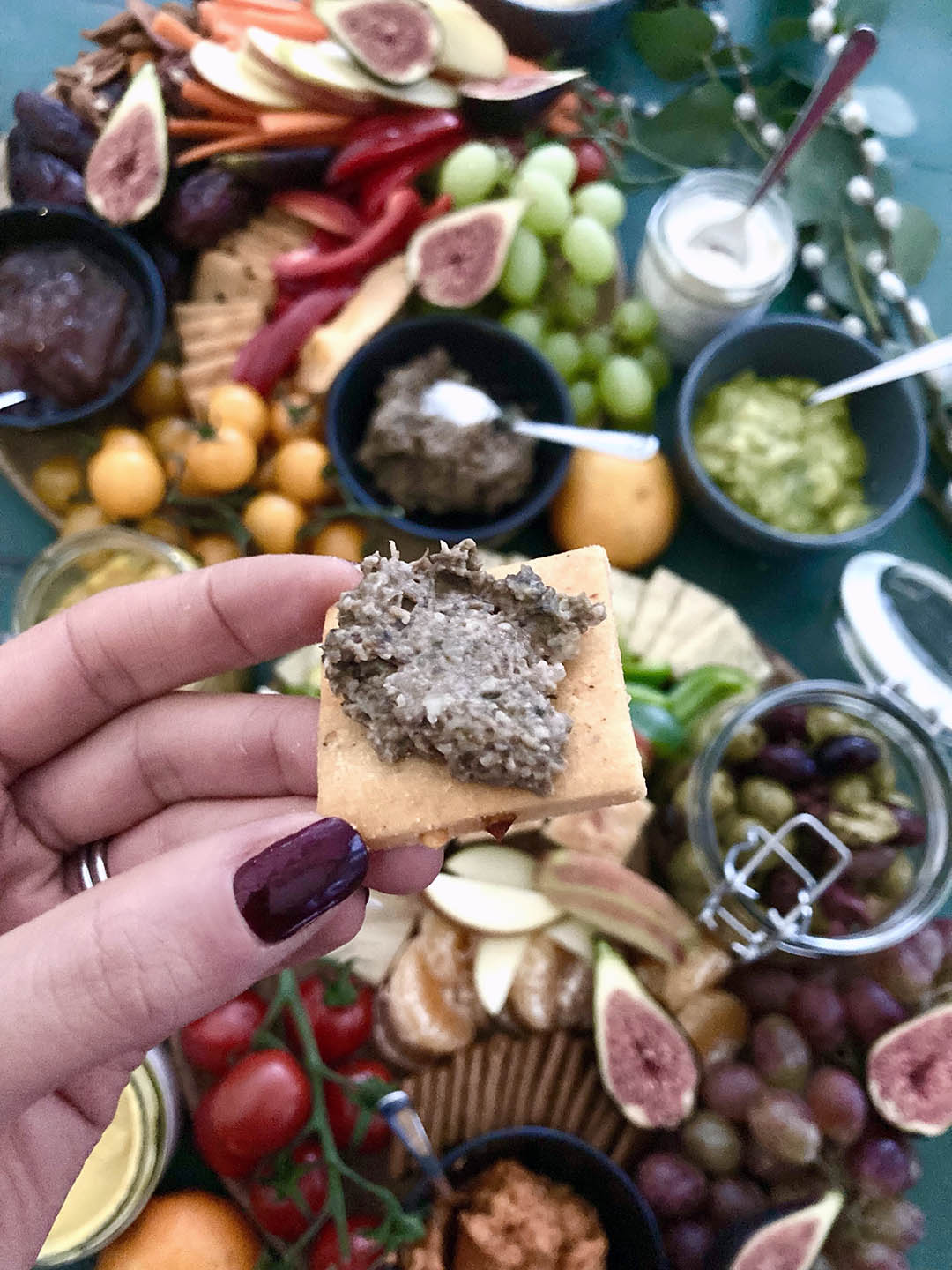 Tip 5. Prep your fruits and veggies!
For a truly aesthetic grazing board, cleverly distribute the different shapes and colours around your board. Slice your carrots and sweet peppers into strips, leave the tomatoes on the vine to add extra colour and pizzazz, and cut your figs into different shapes to make things look a little more interesting. These are just some ideas, but feel free to arrange things just how you want them!
If you're looking for a fancier aesthetic, put your Kinda Co. dips and mixed olives into individual ramekins or pretty bowls as opposed to serving straight from the jars.
To cut down on time and stress later in the day, prep your veggies in good time on the day of your event and seal them in airtight containers in the fridge to keep them fresh!
Tip 6. Set up your board just before serving
Make sure you set your board up just before serving to ensure everything stays fresh. As mentioned earlier, to cut down on time, you can prepare your treats in advance and keep them in airtight containers in the fridge to keep them in optimum condition. Then, all you'll have to do before your guests arrive is arrange your treats the way you want them and take those Insta-worthy photos!
Tip 7. Sit back and enjoy.
All that's left now is to enjoy the fruits of your labour and sit back with your guests to enjoy your incredible creation!
If you're searching online for a ready-made vegan grazing platter delivery, why not choose to be creative instead and give our vegan platter idea a go. Tailor your board exactly how you want it and add as little or as many ideas from our list as you like!