The Perfect Vegan Date Night at Home
Posted by Helen Anadkat on 1st Dec 2020
Fed up of the same vegan recipes you keep repeating? Completed all the Netflix marathons in lockdown? In need of some vegan recipe inspiration on how to win some extra "vegan" brownie points with your partner? We can help with all these things and more with our NEW Positive bakes "VEGAN DATE NIGHT KIT" and some top tips from vegan starter ideas, easy vegan main meals that don't take forever to prep and even vegan cocktails and candles!
Are you ready to create the best night-in ever?! Here is how to get started!!! Firstly before we get into the really important details don't pick an evening to have this date night when you know one of you will be tired after a super busy period of work if you can!
Top tips for a vegan date night to remember
GET THE SET UP AT HOME FOR YOUR DATE NIGHT SPOT ON!
To set off your new vegan cooking skills to their best advantage take the opportunity to set the stage and make the house feel that extra bit special on your date night. We suggest mixing it up a little and looking at how you can set up your dining area in a different place setting to where you normally do, for example outside in the garden or balcony, or even changing your coffee table to a low dining table with cushions for chairs but if you are not feeling that adventurous bust out the table linen, table runner or place mats to get your table looking classy and your best crockery (we mean the ones that you're almost too scared to use because they're just that nice!). Finish off by adding a centrepiece to your table. Flowers are a timeless classic, with roses being the most romantic, but feel free to get creative, even your house plants will help lift the look but remember to keep it low enough to see your partner over the top of it! Finally finish off with candles. They are great at creating ambience and are key for a romantic atmosphere. If you're looking for a natural, paraffin free and ethical candle, we love GoodLight Natural candles and we stock them in our online store!


YOUR OUTFIT
Dress to impress! Just because you're staying in doesn't mean you can't both spend some time getting ready and making yourself feel good. Set aside some time to pamper yourself and get dressed up. After months of staying in, you'll appreciate this! Dig out a smart shirt or a beautiful dress and dress as though you're going out for a fancy dinner.
THE MUSIC
We can sometimes underestimate the power of music to bring everything together. Why not create your own playlist for the evening? Choose songs that are important and special to your relationship such as your favourite song or even your first dance song. Don't forget that music streaming platforms also offer their own pre-made playlists if you're stuck for ideas or looking to add to those specially selected songs.


The Cocktails! Why not start with a pick me up after a long week!
We love an Espresso martini!
RECIPE FOR ESPRESSO MARTINI
Ingredients
40ml Vodka or we have used "
20ml Kahlua
20ml Espresso (made with the beans from Caravans "The Daily Blend")
3 whole coffee beans
Ice!
The main event - the food!
Starters
Pick a theme! Italian, Mexican, Indian…the possibilities are endless! And because they are endless, we couldn't possibly provide you with enough recipes which is why we're instead going to share some vegan starter ideas for you to help you get your vegan head chef hat on, check out the combinations for inspiration and then get googling for recipes!
For in an Indian why not start with vegan samosas but as a bit of an easy cheat use pre-made filo pastry and fill with a mixture of spices and veggies, spicy samosas go beautifully with a nice fresh coconut chutney.
For Mexican style it has to be the all time favourite NACHOS! Prefect for that relaxed vibe and for sharing together. Make your own fresh salsa, guacamole, vegan refried beans and vegan cheese! Don't forget the lime and fresh chillies as an extra fresh kick!
For Italian style why not start with some different types of bruschetta (if you are gluten free you will need gluten free bread) Add the classic roasted cherry tomatoes & basil, but why not try some roasted garlic aubergines or even butternut squash, roasted and mashed with some vegan mozzarella cheese and sprigs of rosemary! Delicious!


Mains
To team up with your starters here is our line up...
To carry on the Indian theme why not follow with an Indian feast of garlic naan breads, cumin flavoured rice, chickpea curry and a lovely vegan coconut yogurt raita.
To accompany the Mexican style starter why not try some spicy jack fruit tacos or yummy burritos and even partner them with some fun margarita cocktails
To finish off the Italian vegan bruschetta dish why not try a creamy vegan vegetable risotto or if you've not got the patience or skill why not go for a simple wild mushroom pasta dish. If you need it to be gluten free there are loads of new gluten free pastas out on the market now to try.
Also don't forget to get some fizz or wine to go alongside your meal and try and pick something that will compliment the flavours.


Desserts
If you're anything like us, then dessert is the best part of dinner. So why hold back?
Let us take care of this course for you in our "VEGAN DATE NIGHT KIT." We have added in two classic rich dark chocolate brownies and two salted caramel brownies. Our serving suggestions are to heat up either brownie depending on which one you would prefer (or both flavours!) in the microwave for a 30 sec on 800W and then add some ice cream of choice and some of your bare bones chocolate.
With next working day delivery on our VEGAN DATE NIGHT KIT you can order this before 2:30pm on the Thursday and it will be with you for Friday ready for the weekend so you do not have to worry about it! Plus, our brownies stay fresh for up to 5 days, so you can even save some for the day after.



The Entertainment
GAMES OR FILM?
By now you may want to just curl up and watch a nice film or you may had done all the Netflix movies and want to try something different. Why not try a card game? We love "crazy eights" but you can find loads of easy card games for two people on YouTube with all the rules explained but either way we have added some lovely chocolate mini tasters from BAREBONES to our VEGAN DATE NIGHT KIT for you try and to finish of your meal in style. Each cocoa is from a different region and each bar tastes divine in it's own unique way.

One last tip...turn off all phones!
Day to day the phone is always taking away our attention from each other so whatever it is it can wait until tomorrow, spend this special few hours together and above all just have fun!
Now you've covered every possible aspect of a date night dinner, you couldn't be more prepared!


Positive Bakes Date Night Kit!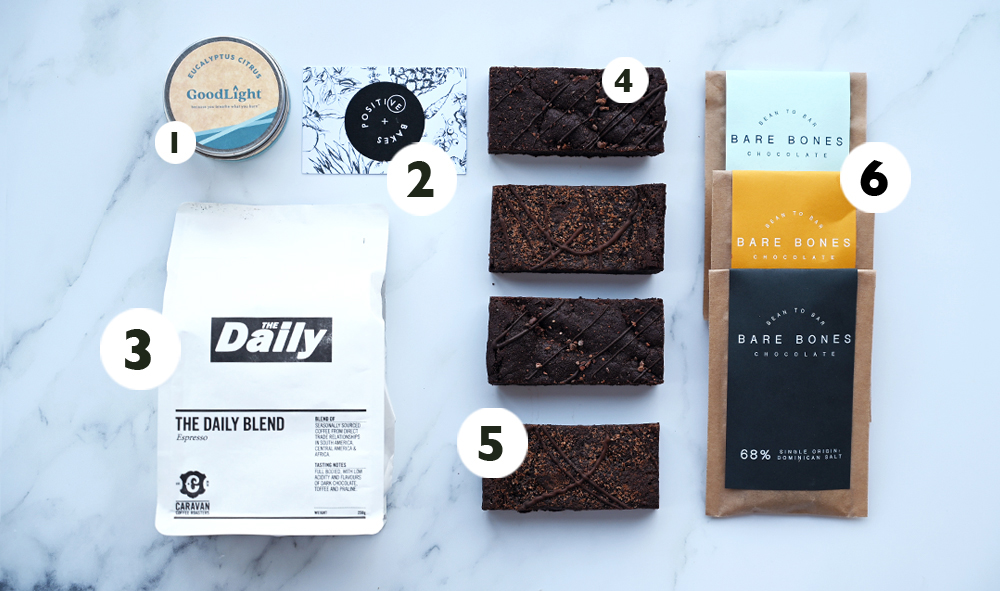 We've given you all of the ideas, and now we're giving you everything you need. Order the essentials in our vegan date night kit!